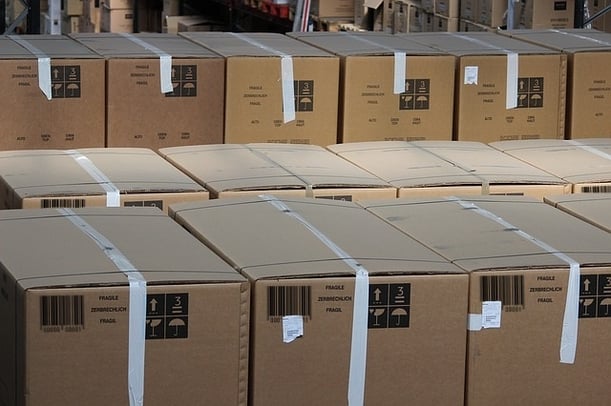 Implementing a suitable warehouse management system is the most important thing you can do to improve the efficiency of your operation and cut your running costs. However, all the main WMS systems rely on you having an organised system of barcoding. Without barcodes, you won't be able to use a WMS to its full potential to improve efficiency and accuracy.
So the very first thing for a warehousing business to do is to review how you currently use barcodes and if this can be tightened up. Although barcodes have been used for decades in retail and logistics, many warehouses still do not make full use of this useful labelling system. In this article we will briefly look at how implementing a barcode system in your warehouse can cut operating costs, while simultaneously paving the way to implement a WMS.
How Barcodes Work In Warehouses
Making full use of barcodes is the first step away from a warehouse highly dependent on manual operation, to one with more automated and streamlined processes. The biggest advantage is how they allow you to track the movement and location of goods. Barcodes are used to facilitate picking, receipt of purchase orders and inventory management. They allow employees to quickly identify the contents of pallets and storage locations, and allow you to track when and how employees move products.
Systematically using barcodes in your warehouse will change the way you receive goods, replenish stock, issue manifests, manage returns, manage perpetual inventory cycles and track the performance of your workforce.
How Barcodes Can Reduce Operating Costs
Barcodes open the door to practical savings which will soon make a positive impact on your warehouse and business. These include:
Faster identification of locations and product, which can lead to better KPIs and a reduction of warehouse staffing costs.
Reduced need for manual data entry and the potential for errors, resulting in a saving in admin costs.
Increase in accurate inventory management, reducing stock losses and time expired items.
Reduced pick errors, resulting in fewer returns and costs time to rectify
Increased pick accuracy which will reduce the need for QC checks
Improved task scheduling ability.
How Barcodes & Warehouse Management Systems Work Together
A barcode is a powerful source of tracking data, which can be harnessed by a WMS to make practical improvements. These incremental changes, whether it is a reduction in staffing, increased automation or a reorganisation of your warehouse, are quickly translated into monetary savings, reducing your overheads and increasing your margin.
Of course, barcodes do not work on their own. They are organisational devices that allow you to access data which would otherwise have to be tracked or entered manually. A WMS is a control centre that centralises the data and lets you analyse and coordinate it. A warehouse that is serious about improving its operation should ideally have both comprehensive barcoding and a suitable WMS.
Learn more about Warehouse Management Systems with these great articles:
- 5 Reasons For Small Businesses To Invest In A Warehouse Management System
- How To Implement A Warehouse Management System
- How A Warehouse Management System Works
How To Cut Costs & Improve Productivity
Download our free Warehouse Productivity Guide to find out more about how process management, layout and design can help save you money and increase your revenue. You can access your copy of the e-book by clicking here. Please don't hesitate to get in touch with our team with any questions you might have.