Warehouse Management Systems:
Do You Need A New Or Different WMS?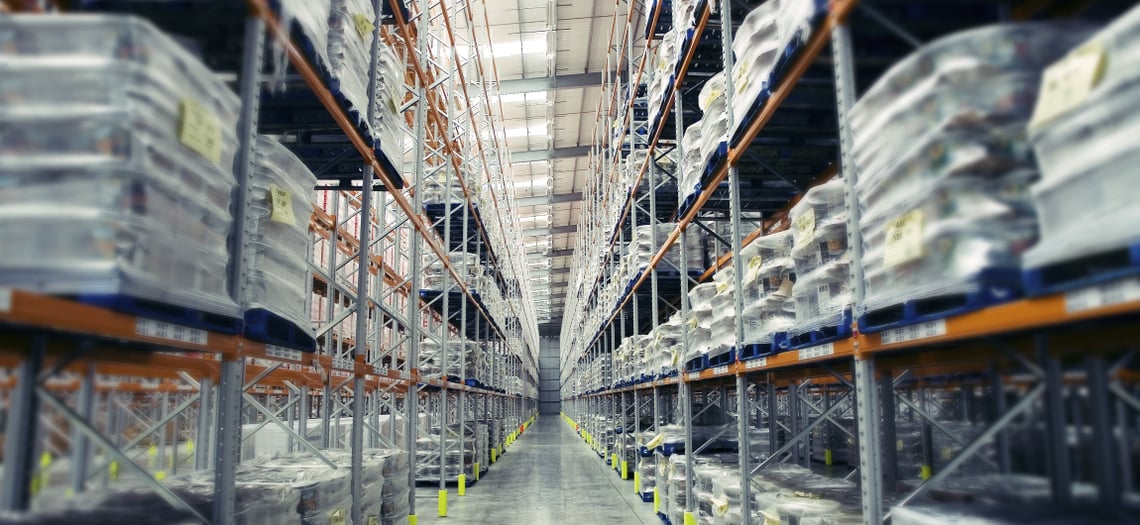 Contents (click to jump to a section)
What is A Warehouse Management System?
At its broadest definition a warehouse management system is any system, IT or otherwise that helps the Warehouse Management to run a warehouse. This can include business systems, such as ERP Systems, spreadsheets, paper based systems as well as Warehouse Management Systems (WMS).
A Warehouse Management System (WMS) is a specialised system providing the management of the warehouse or distribution centre with the tools, functionality and information for the efficient operation of the warehouse and the management of its activities within the supply chain.
The WMS is designed to manage all the physical processes of a warehouse, from receiving product through to despatching orders. In basic terms it manages the four main and distinct functions of this process: receipt, storage, picking and despatch of product, or to put it another way it manages all activity from door to door. Some WMS have the functionality to manage the yard operation and the movement of vehicles and product from point of arrival onto the site until they depart. This is said to be from gate to gate.
WMS have additional functionality over and above the four functions above. Core features include areas such as: inventory management, lot or batch tracking, order processing functionality, product movement tracking, resource tracking and management, stock control, management information and reporting.
In addition to the operational functionality the WMS must interface to the existing business systems either directly or via a separate interface layer known as middleware. The information flowing between a WMS and the business systems (typically an ERP system) includes purchase and sales orders and stock updates.
When is Your Operation Telling You That You Need A WMS or Require A New One?
Warehouse inefficiencies can cause significant business costs. These costs may not be solely warehouse costs, such as labour and resource, but can also impact the wider business. For example inability to satisfy orders will impact customer satisfaction translate leading to lost sales.
Some indicators that improvements can / should be made to your system are:
What are your operational KPIs like when compared to your industry's norms, if they are poor in comparison or you feel that they could be improved?
Are your stock losses higher than you would like?
Are your despatches failing to meet a high percentage of On Time and In Full (OTIF) even though you have the stock?
Is product not found or not where it was expected to be?
Is stock not in the location(s) where and when you want it?
Are your storage locations underutilised?
Do you have difficulty in planning where you should allocate resource (personnel / equipment) to in order to meet your business needs?
Is too much operator time spent on non-productive tasks? (such as walking, waiting and searching)
Do you have a high level of stock damage?
Are you unable to identify what areas different operators need training in?
Are you unable to give customers real time updates as to the progress of their order?
In summary if your costs are higher than you should expect, and or you have gaps in knowledge of the status of stock or sales you should consider upgrading or replacing your WMS.
Factors to Consider When Procuring A New WMS
Any investment in your business requires due diligence. An acquisition of an IT system such as a WMS which will be a key part of your warehouse operation for many years requires careful consideration and planning. The starting point of the acquisition process is the evaluation of the physical functions of your warehouse in order to identify what system functionality is required of the WMS.
It is not just that a WMS needs to receive in, store, replenish, pick and despatch products. Each of these elements contains a number of functions and different ways of managing the individual processes that may or may not be required for your particular business. You need to firstly identify what the potential functionalities are and then decide what is:
Essential to your operation
Nice to have that would improve the operation
Put this into a Functionality Matrix to be used in the ITT / RFQ.
Why do I need to say what is not needed, well, for instance an all singing and dancing system may well be more expensive than another that just provides what you need.
A functionality Matrix may look like this:
A = essential B = highly desirable to good operation C = nice to have D = not required

Function

Requirement

Priority

Comments

Receiving
Interface PO Systems
PO's automatically transfer across from the merchandising system (host) to the WMS
A
Receive w/o PO
The WMS must be able to generate its own PO to allow it to receive product with no outstanding merchandising generated PO
B
Inbound e-ASN
Receive ASN data for SKU, quantity, lot, pack quantity
A
Partial PO Receipt
The ability to receive part of a PO and keep the residual part of the PO open
A
Ability to isolate a line (i.e. product) on a shipment in order to receive the order without that line.
Manual Shipping Note Entry
The ability for the gate / receiving clerk to enter delivery details prior to tipping - from email, fax or delivery note etc.
A
Time Slot Door Allocation
Door assigned type of activity i.e. pallet, cage, loose cartons
A
Time required calculated on a SKU/Supplier/Quantity matrix
B
Door allocated closest to point of requirement
A
Number of doors available limited by number of doors or number of hours
B
Means to identify and direct which door a vehicle is to use
A
Delivery Calendar
Ability to check a delivery against the delivery calendar.
A
Goods Receipt Number
Generate a unique and traceable GRN for each delivery
A
Create and Post
Ability to print and electronically transmit Receipt to host
A
Blind Receiving
All goods in counting to be completed blind incl expiry dates / Rotation / Product Lot Numbers
A
Includes bottle / case counts Plus Ability to use the ASN or PO confirmation as the starting point for the warehouse receipt (i.e. so that the system can flag where the shipment differs from the ASN or PO confirmation)
2nd count requested if counted is different to expected
A
Flag up any discrepancies between the PO and the warehouse receipt.
A
What Are The Requirements of The Business?
It is essential that the challenges of the business are understood, and that the problems that exist are mapped. This will enable the changes to be identified to meet the key business requirements. The functionality of any proposed WMS system needs to be able to meet these requirements.
In addition to your current business operation and functionality requirements, the future needs should be considered and their potential impact. What does your business plan look like? Are you expanding into new markets, or extending your product range. Does automation or other major change potentially feature in the future? The degree of automation used and the systems controlling it can have implications in the selection process for a WMS. An automated system is typically controlled by a warehouse control system (WCS) which can contain much of the functionality of a WMS and can be a major factor in your decision on a WMS.
The WMS Team
No one knows your business better than you. The procurement, evaluation and implementation should involve personnel from both the operational and IT teams. There is frequently more than one way to approach many of the warehouse tasks and operational input is required to ensure the most cost effective and efficient is used.
If you think that you do not have the experience, expertise or resource consider using external consultant support. As well as supplying independent advice they will be able to advise on current best practice and cover any gaps in your internal team's knowledge of what functionality is available.
Scalability/Longevity Of Your Warehouse Management System
A company will use its WMS for many years. The average life cycle of a WMS is typically between eight and ten years. You should therefore look at the suppliers approach to their system development. Though you might be using the system for a number of years, your requirements and the functionality to support them might change. A company that invests in continuous improvement of and offers their system regular system upgrades are more likely to extend the life time of the software system and meet your longer term needs.
Sustainability should be a key component when evaluating a WMS. It speaks to both the stability of the system software and the company promoting it. There are many applications in the market place branded as WMS software. Consideration of the technology employed by the vendor can give an insight to the viability of the WMS.
Does the system need to be highly bespoke and therefore become "a one off" with no easy route for upgrades?
What are its certifications?
Can it support new platforms?
Can it accommodate market trends?
A WMS needs to be configurable, by the user. Your business will change, and your system needs to be configurable to meet the changing needs of the business. If it is not configurable then at some stage down the road it may need to be modified at code level, or replaced, resulting in extra costs. It is generally more cost efficient to implement a WMS that you can configure as the needs of the business change than it is to start the journey again with a new vendor.
Integration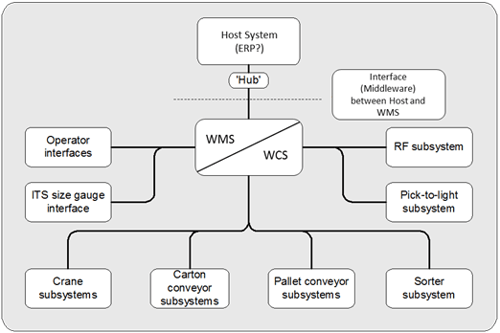 It is important that the WMS is based on an open architecture. You need to be enable to interfacing to the business Enterprise Resource Planning (ERP) system, sales systems, carrier systems, etc., and also to integrate with any other material handling systems you use or plan to use to improve warehouse efficiency. This may or may not be via middleware
If your business is just looking for a WMS system and has no plans to automate the warehouse, then integration is not such a critical concern as middleware can be used. However, if product movement with automation, such as conveyors, stretch wrapping, automated label application and so forth are under consideration, then the ability to integrate the WMS and WCS / PLCs that control it is vital.
Utopia is a streamlined system that can seamlessly run all the warehouse logistics. Issues can arise with ERP's and WMS's supplied by separate vendors. Each application though serves a separate and unique purpose and it is not uncommon for companies to use different vendors to find the systems best suited to their business. However it is very important that the WMS you select has the capability to integrate with other systems across the company.
When information exchange between the ERP and the WMS is optimal, the entire supply chain works better, a prerequisite when businesses are focusing on optimizing their complete supply chain and in particular if they are providing an E-Com service.
Data
The management and retrieval of data from the system is crucial. Management information is fundamental to the understanding and running of the business. The WMS should be able to provide standard, flexible reporting and online queries. The presentation of the information should be in format that is easy to understand. It is useful to have a dashboard to provide minute to minute views of the operation.
Graphical User Interface
The system will be used by a number of staff carrying out or interrogating key tasks. The system needs to be user friendly for the staff, at differing levels, to make use of all the benefits of the system in a fast and easy fashion. Systems that use screens with lots of layers and text might be good to get information from, or carry out system changes to orders or stock, but are slow and cumbersome for a warehouse operative. The manner of presentation and information content required should be considered for each operative. For example clear simple touch screens are better for a packer for instance.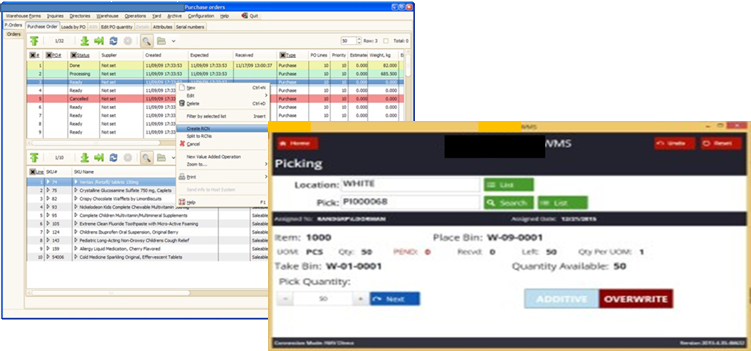 Capability of Vendor
It is essential that the vendor shares with you the same value and vision of your business. Both parties having the same focus will lead to a smoother implementation. The vendor's ongoing support is critical for your business and needs to be seriously considered in your evaluation process. This should not be overlooked. Responsive customer service and the availability of resource are key to this support. In your evaluation process do request referrals and visit and question users at existing sites to get an understanding of the support available.
What does the support model look like? Look at the levels of support the vendor is providing in the cost at pre/during and post implementation. You should get a sense of whether you are partnering with the vendor or a fee based service provider.
Your business environment is bespoke to you. Will the vendor provide hands on training for your users and operators at you premises?
Some questions to consider and points to look at are:
Does the knowledge base of the vendor run deep?
What is the cover to your account manager if they are unavailable?
It is prudent to ask details of the vendor's internal training program to understand and hopefully garner confidence that a number of its employees has a similar knowledge base, and that training programs are frequent.
If your operation is 24 /7 then support should be 24/7. If it is less, is there a charge to meet this?
The more limitations you flush out, the better you will know the vendor and product.
Above all, determine whether the vendor can supply what you want, when you need it. Can they provide a credible timeline for implementation, testing, commissioning and go live. Honesty and integrity are two of the most important characteristics a vendor should possess in its dealings with its customers.
Most vendors offer one or two software updates per year, depending on their development programme. More frequent upgrades than that could be indicative of an unstable product in which the vendor is still trying to understand their customers' businesses and what the system needs to deliver.
More warehouse and operational managers are using voice, handheld and tablet technology. If you are looking to employ advanced applications then the WMS needs to integrate with this technology.
How Much Do Warehouse Management Systems Cost?
Cost is a fundamental factor in the evaluation of any procurement but more so for smaller businesses. There are many items that go to make up the cost. Some of them are:
Software licences or for users
Modifications to the software
Installation / Integration
Hardware (can be supplied separately)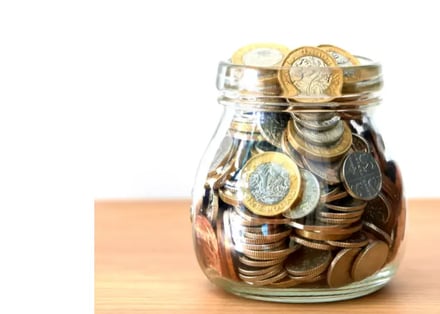 The introduction of a WMS will need a cost / benefit evaluation. Benefits will come from amongst other things; headcount savings (from better KPIs), inventory reduction, reduced stock loss and improved service levels (leading to increase sales).
A business may typically look at their return on investment (ROI) based on the costs and cost benefits, but an often overlooked consideration is the accuracy of the information that a WMS can provide and the business advantage of the data that can be retrieved.
Also, in evaluating the cost of the system, the annual support costs to maintain the system should be taken into account in the operating costs.
Most experts estimate that annual system support costs average between 15 and 18 percent of the system acquisition cost. The cost is not the only factor that should be considered. Other key considerations are:
The Vendor proactively wanting to learn and understand your business
The vendor's commitment to partnering with you to maintain the WMS at the growth pace of the business and importantly with the advancements of technology.
A good support contract should cover any system needs the customer has throughout the contract term and enhance the original product through updates.
Software can offer all the bells and whistles in the form of hundreds of features, but in all likelihood, you, the customer, may only need to use a limited number of them. If the selected few, the ones you need to run your operation don't work well—and the vendor doesn't support them or take the time to understand your business—then it is time to look elsewhere. WMS software can provide masses of functionality /features. Many of these you will not derive any benefit from but potentially will pay for.
We have covered some of the requirements and things you should look for in a WMS above. The question now is how do you go about selecting the right WMS?
Warehouse Management System Selection - The Process
We suggest that you follow a similar process as to the one below:
Identify your requirements, not just today but for the middle to long term. Decide on whether this includes a re-engineering of your existing site or procuring a new possibly larger site. These options might well require different operating procedures than your current operation. Design / re-design your warehouse layout and equipment and confirm what your physical activities (procedures) and flows are going to be.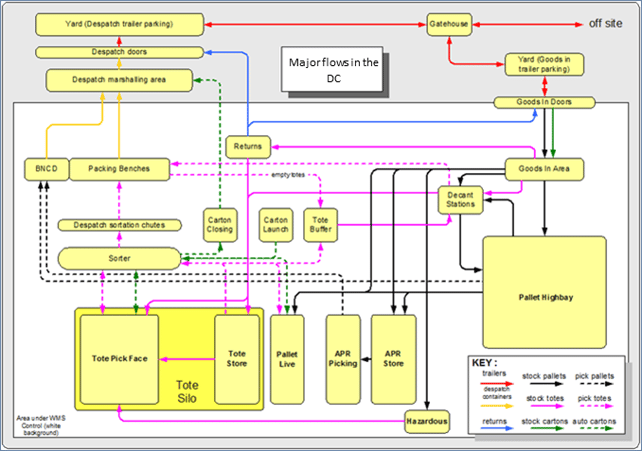 Decide on the functionality that you need of the WMS, starting with the general, going down into the detail and include in your Functionality Matrix. For example:
In general – i.e. Receiving-
In detail, (as examples and not exhaustive)
Integrate with purchasing system to validate POs, SKUs and quantities
Receive according to, for instance, supplier / value i.e. carry out a percentage check or a 100% check based on the supplier profile (and past compliance)
Request recount if incorrect – notify supervisor if still incorrect
What degrees of difference can be accepted with /without reference to the buyer etc?
Route product to QC as required and what those rules are?
Allow "red Flagging"/ "hot tagging" of products that are needed at, for instance goods out or direct to pick face, as opposed to reserve storage
Record supplier compliance information
Route product to put away as required
Handheld screen display layout and full terminal GUI layout with touch screen controls as required.
Confirm your IT requirements i.e.:
interfaces with ERP direct or via middleware
Specific server and operating system requirements, whether wanting on site server or cloud and whether single or multiple sites.
On-premises or a hosted, cloud, or Software-as-a Service solution?
Dependent on your plans you can also consider leasing the system which can also include the hardware so capital outlay can be reduced and spread.
Alternatively you may want to supply the hardware – servers, handheld / vehicle mounted terminals, use of voice, full terminals, printers, label printers, RF interfaces. An infrastructure will be required such as cabling and wireless points - do you want the WMS supplier to supply and install?
| | | |
| --- | --- | --- |
| | | |
| Hand Held | Worn | Vehicle Mounted RDTs |
Identify the number of users by type, and know the number of transactions the system will need to perform.
Identify potential suppliers from web search / trade publications / recommendations / expert advice. Consider issuing an RFI to assist in the identification of suitable suppliers offering best fit for your size / requirement / cost ranges. The RFI should be a lightweight version of a ITT / RFQ focusing on information, capability, experience of your business sector, ability to meet you timescales.
Produce an ITT or RFQ
Know your time scales not just for the ITT/RFQ process but also for implementation. Ensure you provide as much information as possible to the potential suppliers, including your functional requirements, receiving profiles, storing and replenishment profiles, order and picking profiles etc.
Build into the time frames sufficient time for the suppliers to ask question, to visit your site and see the operation, and to discuss and understand any changes you have identified for the future. Allow time for them to provide a comprehensive response and for you to review and compare the responses. Make sure that you specify what the selection criteria will be i.e. cost, standard fit of functionality and degree of modification required, ability to support the system both on line and if needed on site, the testing and commissioning processes including training probably of the trainers / Super users etc. and the ability to meet the project time frame for go-live.
Short list your preferred responses and get the suppliers to present their solutions and then visit reference sites where ideally you can speak with the operators and hear what their experience is not only with the system but also their experience of the journey they had with the supplier in getting to the operation.
Choose Your Supplier
You should rank you suppliers according to the selection criteria covering the points we have made above and shortlist two or three companies for further discussion and negotiation. Typically you would have a preferred and a reserve.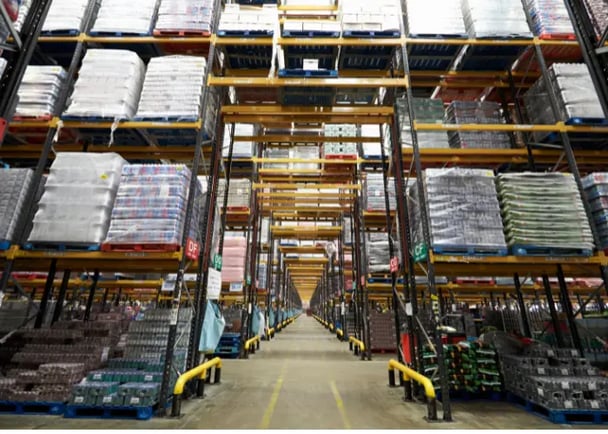 Warehouse Management System Implementation
Once you have chosen your supplier ensure that there is a full project plan agreed from the outset to cover the period from specification to go live which should include:
A process to produce a Functional Design Specification (FDS) (a document which sets out to confirm the functionality that is going to be provided by the system, the interfaces to other systems and the interfaces to the users). Must be signed off by you the customer.
The supplier's development / configuration period
Factory acceptance testing (FAT) where integration to your systems can be tested off site and without disrupting your operation, and also allows you can see the functionality demonstrated along with the correct screen displays etc. If things are not as expected it allows the vendor to correct before delivering to site. Re- test if things are bad. Sign off when completely happy
Training of super users / trainers and operators.
Installation and commissioning
Site acceptance testing (SAT) to prove the integration and passage of messages / data is correct and that all the terminals and functions work as specified in the FDS before you sign off and accept the system
Go live and ramp up of the operation