Warehouse Automation: What Is It?
Warehouse Automation has been in our industry for some years now, continually evolving and embracing the advancement in technologies. Warehouse automation provides greater efficiency for less effort with the deployment of appropriate equipment and technologies. A well-defined automated solution should be scalable, ergonomic, and delivering a return on investment (ROI) in 3 to 5 years, sometimes sooner.
At the heart of warehouse, automation is reducing repetitive tasks that are process orientated, time-consuming and error-prone. Warehouse automation comes in all shapes and forms, from Warehouse Management Systems (WMS) to automated units.
Automation is a generalised term that can be layered as:
Basic automation uses of specific scanners, applications, printed papers
System automation use of Warehouse Management System (WMS), mobile radio frequency, voice-directed technologies
Mechanised automation conveyors, Automated Storage and Retrieval System AS/RS)
Advanced automation automatic sorters, palletiser, robotic picking, Automated Guided Vehicles (AGVs), and AGV software
Is Warehouse Automation Really Worth It?
Warehouses and distribution centers are key components of most company's supply chains. They are designed to perform a role. Depending on the supply chain strategy, this could be a national distribution center, regional or local distribution center, finished goods store at a production site etc.
Designing a warehouse starts with understanding the role to be performed, the products, stockholding and processes to be undertaken and the demands/service levels to be delivered.
Since inefficient processes can have downstream consequences, that means the reverse is also true. Using automation, efficiency gains created in the warehouse can be passed on, driving improvements in the rest of the organization and supply chain.
According to Supply Chain Review "Warehouse automation is one of the last areas where long term costs can be significantly reduced"
Some of the areas where warehouse automation can improve operations include:
Increasing efficiency and productivity of human resources and reducing errors
Minimizing manual processes and handling of stock-keeping units (SKU)
Maximizing warehouse space utilization, layout, and flow
Coordinating usage of material handling equipment (MHE), such as barcode scanners and mobile computers
Automation is not just about driving down labour costs and replacing with robots. The reality is that an efficient warehouse relies on the two. Humans will be better at certain aspects whilst robots will perform certain tasks more effectively. The two need to be harnessed together to provide an optimum solution. Robots cannot do everything and require human intervention.
Companies introducing automation technologies in their warehouse often experience the following benefits:
2.1 Lower Costs
The implementation of automation helps drive cost savings associated with labour, equipment, and maintenance. The overhead is reduced whilst increasing throughput. Additional benefits are reduced warehouse footprint, land take, and reduced energy consumption, and strong green credentials, particularly in temperature-controlled environments.
2.2 Productivity
Automation can raise the productivity of workers, increasing the throughput of each shift without increasing the headcount.
2.3 Employee Retention
Automation should make the workflow of employees easier and safer, aiding employee retention. It removes repetitive and demanding tasks, can reduce time spent in training employees, and create less need for hiring temporary sta.
2.4 Inventory Control
Inventory control can increase to 99.99% accuracy by automating processes which in turn should reduce lost inventory, misplacement, and shrinkage, resulting in fewer shipping errors.
The Most Important Factors On Deciding To Move To Warehouse Automation
The following is not a rule of thumb, but if the following resonates with you it might be time to consider automation.
Failure to get orders out on time
Inaccuracies in order fulfillment
Increasing resources for multiple checks on order accuracy
Working processes are increasingly labour and time-intensive
Current materials handling system requires a lot of upkeep
Dissatisfied customers despite your best efforts
Is it time to move on? Relying on outdated manual processes can have consequences including errors and delays, impact on company profits, out-of-stock items, dissatisfied customers, and excess inventory sat in storage. The facility could be hindering growth and lowering profits due to lost productivity.
If you think you are ready to consider automation are you technically and culturally ready?
Trends In Warehouse Automation
The logistics industry is continually having to adapt to customer demands and increased expectations. Facilities need to be more efficient. Operators need to consider how the operation might look like in the near future. What are the drivers for this transformation?
E-commerce
Consumer expectations are changing
Expectation for a more seamless omni-channel experience
Pressure on businesses to reduce customer order to delivery cycles becomes ever more competitive
Consumer demand patterns changing
Processes and technologies needed to continually evolve to meet the demand
Labour availability and skills in short supply
Local labour laws have been a contributing factor to weightlifting limitations on human operators in Scandinavia, France and Germany.
Meeting new growth targets
"Interact Analysis estimated that the UK warehouse automation market was worth $1.4 billion last year."

Fig1. UK Warehouse Automation Market: Fig.2 Global Warehouse Automation Market:
Source Interactive Analysis Source LogisticsIQ
4.1 Trends Impacting Supply Chain Management and Facility Design
4.1.1 Omni-Channel Optimization
More facilities are having to move to Omni-Channel Order Fulfillment with a proliferation of products and substantial reverse logistics operations to accommodate the rise in returns. Optimisation of processes requires batch picking processes to be undertaken, resulting in more individual orders being picked, meaning travel time needs to be reduced and productivity enhanced.
4.1.2 Warehouse Automation Solutions
Many businesses are investing in automated systems to replace menial tasks performed by humans with robotics and automated systems to increase safety and speed.
4.1.3 Integrated Warehouse Robotics
Companies like Amazon are using robots for improved logistics and increased production.
Amazon uses robots to seamlessly sort through products and prepare them for delivery. They have in excess of 200,000 deployed in their fulfillment facilities worldwide. The figure below (source Interact Analysis) illustrates the correlation between Robots as a percentage of Employees at Amazon.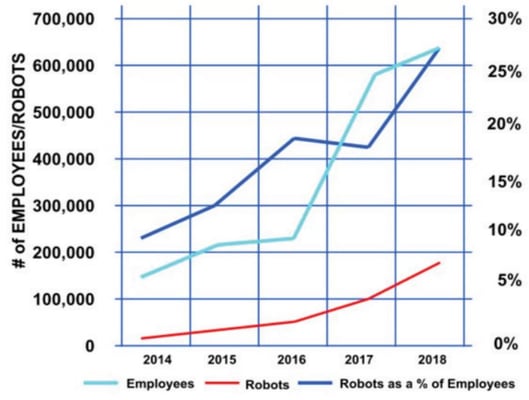 Fig 3. Number of Amazon Employees and Robots:
Source Statista, Interact Analysis
The argument will continue as to whether robots will replace humans. In today's world, robots are used in warehouses to bring goods directly to a human picker. Hence automated solutions being called goods-to-person systems. Typical systems are:
Automated Storage and Retrieval Systems (AS/RS)
Automated material carrying vehicles (AGV's)
4.2 Greater Transparency and Traceability
Increasing customer expectations require the customer to know where their order is as soon as it is purchased. To meet that service level, businesses need to trace the order in the supply chain and have greater control and management within the warehouse. This therefore requires:
4.2.1 Radio frequency identification (RFID)
Radio frequency identification (RFID) is becoming more commonplace throughout the process.
4.2.2 Warehouse Digitalization
In time, warehouses can be seen to be an environment for a host of leading digital technologies, such as:
4.2.3 Internet of Things (IoT):
The medium connects multitudinous items to the internet. Enabling real time data collection, tracking, and analysis of items to and from the warehouse facility. More connected devices will revolutionise the supply chain.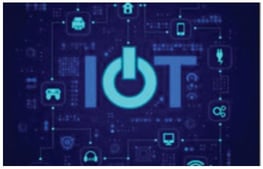 4.2.3 Big Data:
Harnessing all the data collected from billions of nodes will require processing and analysis. Big data is data that contains greater variety arriving in increasing volumes and with ever-higher velocity. This is known as the three Vs.
Big data is larger, more complex data sets, especially from new data sources. These data sets are so voluminous that traditional data processing software just can't manage them. But these massive volumes of data can be used to address business problems you wouldn't have been able to tackle before.
The three 'V's
Volume The amount of data matters. With big data, you'll have to process high volumes of low-density, unstructured data. This can be data of unknown value, such as Twitter data feeds, clickstreams on a webpage or a mobile app, or sensor-enabled equipment. For some organizations, this might be tens of terabytes of data. For others, it may be hundreds of petabytes
Velocity is the fast rate at which data is received and (perhaps) acted on. Normally, the highest velocity of data streams directly into memory versus being written to disk. Some internet-enabled smart products operate in real time or near real time and will require real-time evaluation and action.
Variety refers to the many types of data that are available. Traditional data types were structured and fit neatly in a relational database. With the rise of big data, data comes in new unstructured data types. Unstructured and semi-structured data types, such as text, audio, and video, require additional pre-processing to derive meaning and support metadata.
Big Data as digital technology in the warehouse will enable companies to anticipate and plan for changing customer behaviour and thus plan future operations and processes accordingly.
4.3 Mobile Devices and Wearables:
Increasing customer expectations require the customer to know where their order is as soon as it is purchased. To meet that service level, businesses need to trace the order in the supply chain and have greater control and management within the warehouse. This therefore requires:
4.3.1 Handheld Scanners
Handheld barcode scanners and RFID readers have been prevalent in warehouses for a while now. But the increasing use of wearables and mobile devices with built in cameras, smart label printers and RFID capabilities will help warehouse workers to become more ecient as the devices will provide even more information on productivity providing the data to improve eciencies further still.

4.3.2 Smart Gloves
Smart gloves eliminate the need to grasp handheld devices whereby the scan is triggered by pressing two
fingers against each other. The scan is confirmed by optical, acoustic, or haptic feedback.
4.3.3 Drones
Drones can be used for inventory counting, saving time and money by not requiring employees to reach high racks with handheld scanners. The drone automatically scans every item, reducing error rate and increasing service level. The scanned data is uploaded to the central system used within the warehouse.
4.3.4 Cloud Technology
More common place will be the accelerating move for Warehouse Management Systems to move towards cloud-based IT services and solutions as they provide the scalability and flexibility for small, medium, and large-scale operations.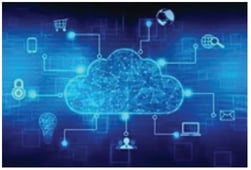 4.3.5 Voice-directed warehousing:
This is an opportunity to increase workflow. Voice technology is all around us with the likes of Amazon Alexa, Google Assistant, or Apple Siri and, coupled with Artificial Intelligence (AI), is yet to come into the mainstream in warehouse applications that could transform human workflow.
Relevant picking information is received via audio or smart glasses. Leaving hands and eyes free for essential work elements creating a safer and faster working environment.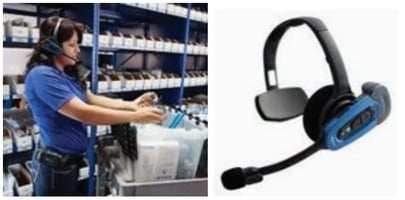 With the employee giving feedback via an integrated microphone it is possible to increase productivity and reduce error rate.
Types Of Warehouse Automation
5.1 Basic Automation
5.1.1 RF Scanners
This is a wireless scanner handheld device that uses a radio frequency wireless network to communicate with a WMS to transfer information through the network. The picker scans a barcode on the product that relays product information, quantities, and location information to track goods from receipt, putaway, picking, packing, and despatch.
5.2 System Automation
5.2.1 Warehouse Management System (WMS)
Software application designed to support and optimise warehouse functionality and management on a day-to-day basis.
5.2.3 Voice Picking
Voice picking enables the operator to be hands and eye free so as not to distract them from picking. Easy to understand voice prompts to direct the picker to picking locations and to instruct them in picking tasks.
5.3 Mechanised automation
5.3.1 Automated Storage and Retrieval Systems (AS/RS)
Though not a new technology, having been around for decades, AS/RS systems have evolved. Pallet lifting and lowering devices are among the most commonly used AS/RS devices. These fixed path aisle storage and retrieval machines move pallets into and out of storage locations, and they can be configured to match SKU density profiles, varying load types, and delivery speeds. There are also case and load handling devices, which are a scaled-down version of pallet lifting and lowering devices used to handle smaller storage containers. Newer varieties of case and load handling devices that make use of shuttle cars and robots are known as goods-to-person systems.
The system comprises of:
Storage and retrieval machines
Conveyors such as AGVs
Rack structures
Warehouse control systems
The use of AS/RS offers a multitude of benefits, including:
Reduced space and labour utilization
Flexibility to operate as a stand-alone structure inside existing buildings or as rack-supported structures (commonly used for cold/freezer storage)
Consistent and safe product handling
Consistency in following storage putaway roles
Maintenance of real-time product tracking and identification
Order picking and consolidation facilitated by automated replenishment
The ability to create highly controlled storage environments, eliminating human access entirely
The ability to keep products fresh and mitigate recalls
In addition to these benefits, warehouses implementing AS/RS realise long-term cost savings through improved efficiency, the ability to keep up with increased consumer demand, lowering risks, boosting throughput, and increasing overall inventory accuracy. We have clients that have implemented AS/RS systems over 30 years ago and are running to this day. Typical ROI is three to five years.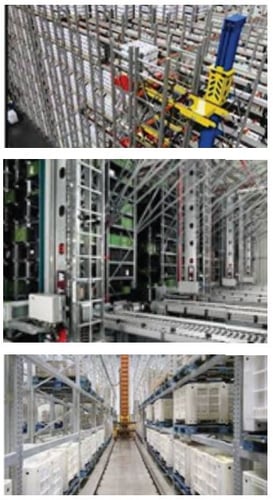 5.3.2 Mini Loads
Again, this is not a new technology and is used for the storage and retrieval of lightweight and small loads, typically in totes. It is an optimum solution with high stock turnover ratios.
The system comprises of:
Mono column or bi-column structure - racking
Automated stacker crane
Warehouse control systems
The use of a miniload offers a multitude of benefits, including:
A high productivity picking system
Completely automated
High density
High speed product flow
Fast and safe
In addition to these benefits, and as per an AS/RS system, warehouses implementing a Mini Load system realise long-term cost savings through improved efficiency, the ability to keep up with increased consumer demand, lowering risks, boosting throughput, and increasing overall inventory accuracy.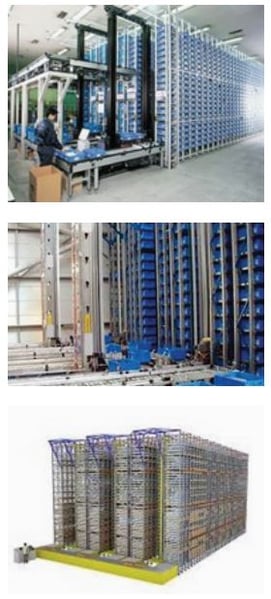 5.3.3 Conveyors
Conveyors play an integral part in an automated design for the movement of distribution units to picked goods. They can take the form of simple belt or roller conveyors to tote and unit load conveyors.

5.3.4 Carousels
Vertical or horizontal carousels can retrieve goods quickly, reliably and cost effectively. The system reduces manpower requirements by presenting the "goods-to-person".
They can be used to perform the following functions:
Goods to person
100% pick accuracy
High retrieval rates
High throughput
Secure (high-value items)

5.3.5 Vertical Lift Shuttles Storage /Vertical Lift Modules (VLM)
Vertical Lift Modules are replacing carousels as referred above providing a lifting device to bring inventory in trays to the picker. With smart technology, VLMs have the ability to automatically find the right locations for the height on the inventory to be stored.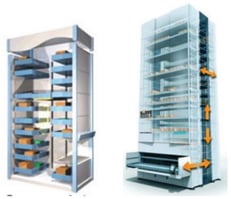 5.4 Advanced Automation
5.4.1 Automated Guided Vehicles (AGV's)
These are trucks that are guided either by lasers or magnets and are becoming more commonplace. They offer direct savings on labour costs and improve the efficiency and reliability of the storage and retrieval processes.
They can be used to perform the following functions.
Storing pallets, racks, and other containers
Storing pallets in warehouse racks
Storing pallets in floor-based deep stacks
Vertical reel storage
Horizontal reel storage in cradles
Controlling the full receiving process for raw materials (from trailer to processing lines)
Automatic trailer unloading
Transporting raw materials to intermediate storage
AGV's are supplied in various ranges from basic to customisable specifications. More complex AGVs have fleet management software. This software makes sure that not too many AGVs are in the same aisles, decides which AGV has the right of way at crossings, and in more complex scenarios,
decides which unit will be used to complete a particular task and how it will navigate through the facility.
There are further advanced offerings in the market whereby each AGV independently calculates its best route and exchanges this information with the other AGVs of the fleet in real time. This way, every vehicle has the latest and most accurate information about its surroundings at any given moment. Because each vehicle is providing constant updates about the current surroundings, the information shared with peer vehicles includes information on potential obstacles on the route.
In China, Alibaba, an e-commerce behemoth, uses over 100 AGV's in its Huiyang facility.
The facility is 3,000m2. The AGV's are used to pick and move the product to human workers who complete the fulfilment to orders. The AGVs are self-charging, laser guided, can carry 600 kg's of product and perform 70% of the workload.

5.4.2 Sorters
5.4.2.1 Conveyor Sorter
A low volume sorter up to around 1,500 cases per hour, comprising transfers in a row.

5.4.2.2 Cross Belt Sorter
A high speed, double sided sorter, whereby products can be directed on one or more belt with manual or automatic feeds.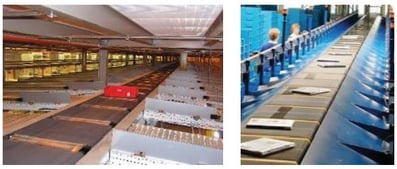 5.4.2.3 Bomb Bay Sorter
Used mainly for garments, textiles and soft products that drops product directly over the tote or carton
5.4.2.4 High speed shoe sorter
This is a straight line sorter, simple and flexible.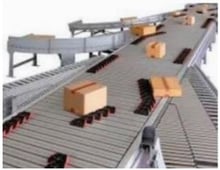 5.4.2.5 Pouch Sorter
Can store, transport, sort, and sequence items, including hanging and non-hanging garments.

5.4.2.6 Boom Conveyors
Boom or telescopic conveyors are used for the loading /unloading of containers. They can be free path or rail guided to service several goods doors. They offer the following benefits:
Fast and efficient unloading
Improved ergonomic working conditions and improved safety.

5.4.3 Palletiser/De-Palletiser
Palletisers enable the quick and efficient automatic means for stacking goods on/off a pallet. They offer the following benefits:
Space saving
Modular expandability
Configurable palletising patterns
Low cost
Palletising weights up to 1000kg
Palletisers maximise production while reducing downtime and repurposes labour.

5.4.4 Robotic Picking
Current usages best fit into e-commerce warehouse operations working collaboratively with human operators to fulfil orders increasing picking productivity. Benefits include:
Piece picking
Sorting batch picked items
Machine learning
Used in wide range of workflows and processes
Vastly increased pick rates to humans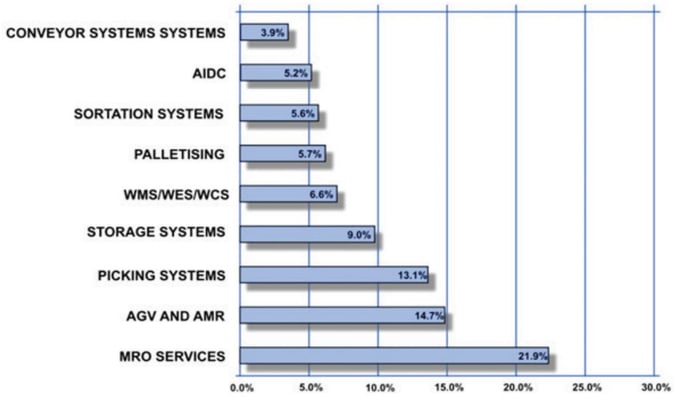 Fig 4. Breakdown of Global Automation Spend: Source LogisticsIQ
5.4.4 Robotic Picking
Warehouse Grid Based Automation
Rack Robots
Rack robots navigate the floor retrieving mobile racks and delivering the racks to pick stations for efficient manual picking of orders from the shelves. The system can conduct ABC analysis to rearrange mobile racks with fast-moving goods to the most efficient locations. The robots use trackless navigation guided by QR codes placed on the floor.
Alibaba use smart robots in their largest warehouse. The robot battery last 5 hours with the robots recharging themselves. Vehicle routes are optimally determined by the robots using swarm intelligence.
The British supermarket Ocado, have deployed cube-shaped robots that roam the floor of the warehouse. They perform simple tasks be it moving, lifting, or sorting goods. All items are stored in crates, arranged in stacks up to 17 boxes high. Algorithms determine the position of items in the stack depending on the item's velocity.
An order is executed by the robot by approaching the crate that holds the product(s). The crate is extracted by the robot's claws and deposited into a central gravity. The crate is then dropped down a vertical chute to a picking station, where a human employee takes the items required to fill the customer's order and places them into another crate, which is then conveyed to the delivery bay

The robots can work collaboratively on large orders to retrieve the required items more quickly.
Once fully operational, the warehouse will be able to process 3.5 million items or around 65,000 orders per week.
5.4.6 The Warehouse of the Future
In China, e-commerce giant JD.com opened a fully automated warehouse in Shanghai. The warehouse is fully operated by robots over 40,000 square metres. This includes the elements normally undertaken exclusively by humans, such as packing, lifting, and transporting packages to loading docks.
The robots process 200,000 packages a day.
The warehouse employs five humans whose roles are to service the robots. The vision of the business is to automate those roles as well.
The business employs 160,000 people and aims to reduce that number to under 8,000.

Approach To Considering Warehouse Automation
The objective of designing a warehouse is to make optimal use of footprint and height or, if you prefer, space and cube to store and process the products that your company relies on for its business, and to deliver service levels and customer promises at the least cost.
The challenge is to do that for a warehouse with a life of maybe 25 years, a fit out with a design horizon of perhaps 5 – 10 years, to store and process in the future new and existing products in unknown quantities to new and existing clients, through potentially multiple sales channels. In practical terms this means your warehouse design must:
Work efficiently and productively from the start and have the flexibility and capability to be able to handle future demands and changes.
6.1 Scope
The starting point of any design project is the Scope - a defined set of objectives/targets that your design must meet, that it must deliver. The scope should set out the high-level objectives, such as delivering to 200 customers/ stores etc. down to detail such as the number of pallets/cases/items to be despatched in a period. It should be agreed by all parties involved.
The less detail in the scope at the start, the more assumptions will have to be made and the more scope there is to end up with something unexpected
A key part of defining the scope is the purpose of the warehouse.
6.2 Purpose Of The Warehouse
What is the objective for the new warehouse – what is it going to do? It is assumed at this point that its location and role, be it standalone or part of a network, have been determined. This takes you into the questions that will determine what the operation and the design will look like. For example:
What market does it serve?
Who are the customers?
What funds are available?
What is the life expectancy or design horizon?
You can't arrive at the right answer if you don't start with the right questions
You must look both strategically within your business and in depth at the details that will impact the design and operation of the warehouse. Some examples of the strategic questions are:
What timeline or growth horizon are you planning too, 5,10,15+ years?
How many SKUs will the company distribute this year, in 5+ years
How many customers will you service this year and in 5+ years?
Will order sizes increase or decrease in the future?
What is the growth rate for sales this year and forecasted out 5+ years?
Will the company grow through acquisition or incrementally?
Having looked at the "higher level" questions you should review your current business and ask:
How are you currently handling products?
What works?
What doesn't work?
How many people pick product?
How many people in your warehouse replenish?
How many people in your shipping/receiving ship?
How many people in your shipping/receiving receive?
How many orders per day do you handle?
How many lines per order do you handle on average?
How many pieces per line do you pick?
How will that change over the next 5+ years?
Note the questions are largely "how many" not "how something is done". You are designing an operation for the future, not replicating the past. The final design may well incorporate some of your existing operational processes, but it should be because it is the right process not because you have always done it that way.
In general, warehouses should make use of vertical space and configure layouts to support the optimal traffic flow. A warehouse layout optimization project is, in itself, a multi-step process requiring thorough analysis and planning. An optimized layout should support the four primary functions of the warehouse:
Product storage
Inbound operations (receiving, returns)
Outbound operations (picking, staging)
Value-added processes (re-labelling products, applying price stickers, special knitting processes, etc.)


How To Implement Warehouse Automation
Considering and implementing automation is a serious undertaking. The idea needs to be evaluated, analysed and planned to take into account all the data available. While automation offers great benefits not all types of automation carry equal impact and may not be the right solution for you. Investing in the right types of automation can be the difference between success and failure. Automating is not an arduous task when undertaking with a Design Professional, but in any event, the following are some key fundamentals that should be considered:
7.1 Automation Technology
It goes without saying that choosing the right automation technology ensures a successful outcome. The 'Design Team' recommendations should be to propose automated systems that offer return on investment with an acceptable payback period. The business should evaluate Automation projects on an ongoing basis to identify areas for improvement and innovation.
7.2 Warehouse Management
It is the management teams that guide daily performance, coach teams, and plan for continuous improvement.
7.3 Warehouse Management System (WMS)
A WMS is a specialised solution that manages inventory flow (to, within, and out of a distribution centre), labour tasks, and orders. The main use of the model lies in inventory management, tracking, and control across multiple channels and customers.
7.4 Warehouse Control System (WCS)
A WCS is an integrated control application that manages the flow of goods, cartons, and pallets when they're being moved by automated equipment (conveyors, sorters, ASRS, etc.) The system is used for real-time communication exchange, processing commands, and material optimization.
7.5 Warehouse Execution System
WES is an 'all-in-one' solution, combining some WMS and WCS features. The system is applied for light task management, inventory management, goods picking, and shipping. WES works for small and mid-sized retailers, managing the fulfilment to both customers and shops.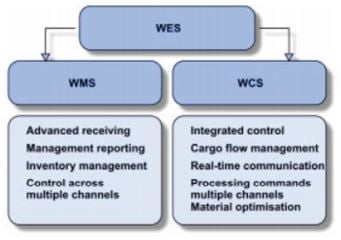 7.6 Warehousing Best Practices
The processes and systems should be proven and successful.
7.7 Training
To ensure employees are as valuable to the business as they were before automation implementation, specific training and change management is important to smooth the process and ensure efficient operations.
7.8 Employee motivation
In turn, employees will feel supported by the company and are motivated to perform at their best, increasing overall productivity and efficiency.
7.9 Warehouse Structure
The physical automation is one part. Identifying the requirements in free movement areas such as the number and type of goods doors, goods marshalling areas, etc are critical to mitigate bottlenecks. If this is a reengineering project, understanding what the warehouse floor loading is important for heavy load-bearing automated structures and dynamic loads of cranes.
7.9.1 Simulation
Have a third party undertake a simulation of the proposal(s). This will give you the comfort of the robustness of the proposal, identify any bottlenecks, and enable "what-if" scenarios to be played out. The simulation should be stress tested. What if the future demand profile compatibility changes?

Automation as we have said comes in all shapes and forms – and price points – with differing ROI.
If you are asking this question "what is the return on investment" of the business then it is to be assumed that there is significant activity in the warehouse and the opportunity to improve efficiencies, increase throughput, and have a scalable plan for the future.
In determining your ROI, at the very least, the following should be considered:
What is the turnover of the business per year?
What are the labour savings with the use of automation?
How much is the business to grow with the use of automation per annum?
How much will automation maintenance cost, routine and unexpected - per annum?
Is automation for you? Whilst nobody knows your business as well as you do, do you know if automation, and what automation is best for you? There are many technologies available in the marketplace and many providers of equipment. Integrators are businesses that will develop a solution design for you as well as providing all the equipment of the system and the software controls to implement.
But using an Integrator is just one approach – one solution. Using a supply chain and warehousing specialist offers you to plug into a diverse and rich vein of knowledge and experience in your business sector to develop concepts and ROI at the business planning stage.
The approach to determining if automation is for you, determining the requirements, the concepts available, cost and benefits can take several paths.
These are outlined in our following e-book Procuring an Automation System.