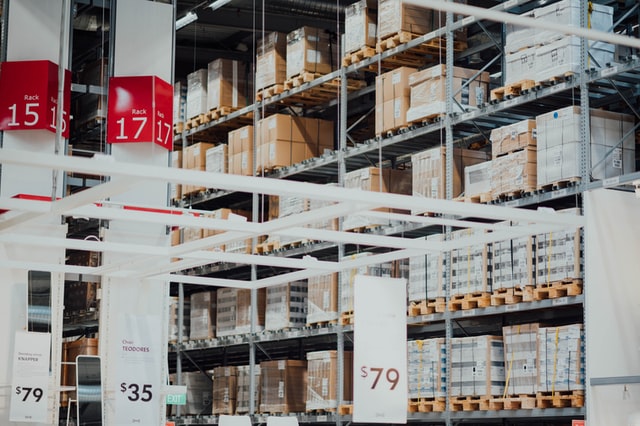 Warehouse management is a vital component of any successful business. It's critical to keep your warehouse and logistics operations running smoothly so you can deliver correctly, on time, every time, and to organise your stock, workforce, and assets in the most productive and cost-effective way. Many areas of the warehouse benefit from continuous improvement, including your staffing strategy, relationships with third parties, your software systems, automation technologies, and the layout of the warehouse itself.
These strategies all require careful consideration, planning and investment, but some of the best ways you can start saving money and boosting output immediately include improving daily warehouse processes like inventory handling and management.
1) Inventory Control
Inventory control is the first step for any warehouse to improve their operations, saving both time and money. Having an efficient system in place can help you manage your inventory levels, locate items faster and more accurately, and identify potential problems before they arise.
How To Optimise:
Working with a logistics planning consultant like LPC can help select and implement the best WMS system that best suits your business depending on your specific needs and functionality. For example, do you use a centralised or decentralised warehouse system? Having visibility into your inventory levels means that management can make informed decisions based on real data rather than relying purely on forecasts or reports from staff.
2) Reception, Dispatch And Order Fulfilment Processes
Internal processes need to be set up in a way that maximises productivity in your warehouse. How you receive shipments (e.g., using RF Scanning), dispatch orders, and fulfil orders can make or break your business. These processes should be optimised based on key factors, such as how many items are picked per hour/day.
How To Optimise:
Solutions such as a Warehouse Management System (WMS) with Electronic Data Interchange (EDI) capabilities can help improve the accuracy and efficiency of your goods inward and outward processes. Also, working closely with a logistics planning consultant means they will be able to provide you with unbiased advice on which software is most suitable for different functions within your company – from receiving goods to picking orders and dispatch.
3) Routing And Scheduling Of Tasks (Workforce Management)
Workforce management is another major area for warehouses. Most companies have a mix of part-time, contracted, and full-time staff, so they need to be able to schedule work such as order picking around the hours each person is available. Streamlining and integrating this process can be a big benefit to warehousing companies, as it ensures that the right number of staff are scheduled for each shift.
How To Optimise:
The best solution is to adopt workforce management software, forging a vital link between your HR team and your supervisors and shift managers on the warehouse floor (who normally don't speak to each other that often). This helps ensure accurate scheduling and reduces errors in routing tasks across your warehouse, leading to increased productivity!
4) Packing And Labelling
Warehouses often deal with various products – from food and beverages to non-food items like toiletries and toys. This means that packaging requirements can vary significantly between these types of goods, and labelling is also incredibly important for traceability reasons. Ensuring that your staff follow correct procedures when packing or labelling will help you maintain the highest levels of quality control in your warehouse.
How To Optimise:
Adopt a packaging or labelling system that can be easily integrated into your warehouse management system so that you can automate the process as much as possible. If each product has a unique barcode or RFID tag, then this information will flow directly through to the packing station, where it is scanned and used for inventory control purposes.
Improve Your Warehouse Management Practices Today
There are many areas to focus on when looking to improve your warehouse management, but the above four cover some of the most important short term changes you can start to implement straight away. If you're interested in how a consultancy firm like LPC can help your business implement WMS software that will suit your business needs and boost productivity, then get in touch today by making an enquiry online.
Image source: Unsplash