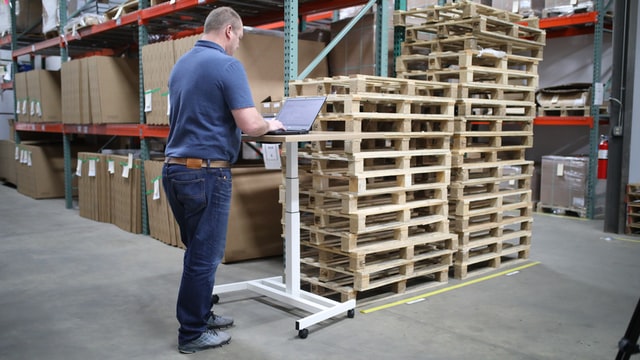 According to a 2020 study, unproductive workflows in UK warehouses result in the waste of more than 3,000 hours per year. This can translate into important financial losses, so it's crucial to know how to make warehouse operations more efficient.
In this article we discuss four ways to increase warehouse productivity without large capital outlay.

Warehouse productivity requires the coordination of many different and complex operations, but essentially revolves around two issues:
Optimising the available space.
Maximising efficiency when moving products within the warehouse.
1) Optimising Warehouse Space
Optimising space requires assessing how efficient your current warehouse design and layout is, and making the necessary changes to improve it. Typical changes include modifying aisle length and layout and changing the placement and organisation of receiving bays.

You can also explore unused vertical space, or expand existing vertical storage arrangements, for example by increasing rack weight capacity or adding higher density pallet racking.

In addition, you may want to examine warehouse areas prone to congestion and bottlenecks, and redesign product flows or, in particular, product placement accordingly.
2) Optimise Operational Efficiency
Becoming more efficient in getting products from A to B without any hiccups during the journey can boost productivity. There's no single best way of achieving this, since each warehouse is different. However, there are some actions that usually produce good results.

One of them is implementing a location system that tracks products in real time using Bluetooth or RFID technology. Due to its cost, this setup is more profitable in warehouses that handle high-cost items, since it minimises the losses caused by misplaced or lost items. Alternatively, you may want upgrade your warehouse management software (WMS) and choose a solution that better fits your routing needs and budget.

A second suggestion is to implement some degree of warehouse automation, which can reduce the time spent moving goods around while increasing picking accuracy. This is an important consideration, given that manual picking accounts for up to 50% of labour hours.

You can also boost productivity by streamlining your reporting and analytics process, and using these insights to review and update your goals and systems:
3) Accurate And Relevant KPIs
Warehouse productivity is not an abstract concept. Determining productivity requires defining goals and KPIs and measuring actual vs forecasted and historical performance.

However, productivity KPIs aren't written in stone. They can be affected by internal and external factors, and so they require review and adjustment. The same can be said for employee productivity benchmarking.

You should also bear in mind that the products and materials that are handled in warehouses can vary in size, volume, price, and composition over time. Therefore, it's useful to have a system in place that allows you to review and assess the relevance and accuracy of your KPIs so you can make the most beneficial changes as and when needed.
4) Redesign Your Systems And Processes To Be Flexible
Productivity requirements are rarely static, as they fluctuate throughout the year. When making productivity improvements, it's important to have a global vision of these fluctuations and ensure that any changes made account for both periods of high and low demand.

Ideally, the processes and systems related to warehouse storage and operations should be redesigned with flexibility in mind. This will allow you to stay productive in periods of peak demand, and it will make it easier to accommodate future growth.
Claim A Free Copy Of Our Warehouse Productivity Guide
If you need assistance making any of the changes listed in this article, you could benefit from working with an experienced logistics consultant such as LPC. To find out more about our services and how we can help, we invite you to download our free Warehouse Productivity Guide.
Image source: Unsplash