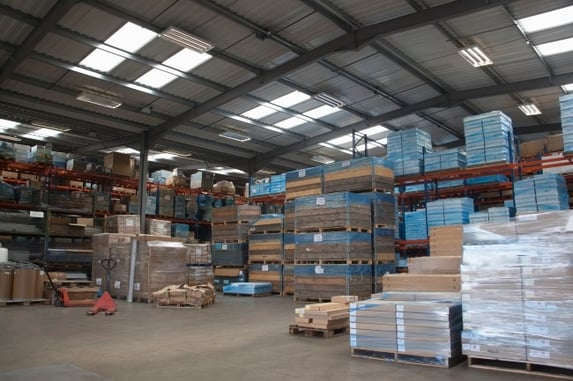 There is no doubt that growth is a sign of business success. When growth exceeds available warehouse space, however, efficiency and productivity can suffer and margin reduces. If your business is experiencing any of the symptoms below, a new distribution warehouse layout may be the solution you are looking for.
1) Reserve Storage is Above 85% Utilisation
In facilities with conventional APR storage, typical reserve storage space during normal operation is less than 85%. If you find that the reserve storage in your warehouse is always full or nearly so, chances are that additional capacity would benefit you. Instead of nail-biting near capacity, consider changing your layout by re-engineering and possibly using different storage media to provide you with additional capacity, as well as easier product accessibility for replenishment and storage.
2) Difficulty Supporting Active SKUs
Inefficient pick locations can cause a host of unwanted difficulties in your distribution warehouse. One symptom of pick inefficiency is not enough depth of stock for active SKUs. If pickers have to frequently wait while replenishing these locations occurs or your pick locations are not suitably sized to meet demand, solving the issue could be as easy as designing a new distribution warehouse layout.
3) Changes in Your Business
A new layout may be around the corner if change is occurring with your business. If you've recently introduced a new product range or increased your number of current products, or the demands of your customers have changed, these can both be indicators that your distribution warehouse layout may need to be revised.
4) Rising Labour Costs
Have you noticed increased demand for staffing at your facility even though your throughput has stopped growing? Often, this phenomenon occurs when you're trying to account for product volume increases. Before you know it, you can have several shifts, with one being dedicated to replenishment, which is a sure sign that a layout change could boost productivity while avoiding spiralling staff costs.
Three Steps to an Improved Warehouse Layout
Once you realise that your operation is experiencing the above symptoms and have committed to changing your distribution warehouse layout, you'll need to optimise it in a way that will grow with you.
1) Optimisation Scenario Development
The initial design and planning stage typically takes a couple of months to complete, and is often done with the help of a professional consultant who can develop concept layout designs based on your needs. At this stage, your centre's capacity and storage space requirements are taken into account, along with estimated operational costs and productivity per area. It's also a good idea to construct a training programme for employees at this stage, to be implemented when the new layout is implemented, especially if any process changes are also required as a result.
2) Layout Selection & Continued Design
After all concept layouts have been assessed and compared and the optimal one selected, the design process continues and the final detailed design formulated. After this comes the detailed drawings and performance specifications for any associated warehouse modifications. Such as revised lighting or sprinkler requirements and as well as those for the detailed layout and specifications for equipment, physical footprint and plans for software and hardware. Because there is so much focus on detail at this stage, beneficial changes to warehouse layout that could save additional cost can also be identified.
This stage is also where the full costs of implementation is finalised, projection for future costs in terms of expansion are made and a complete schedule for project completion created.
3) Bringing it All Together
The final stage sees the results of all the hard work done in previous stages. In order to ensure everything goes seamlessly, the implementation project management will be critical. This implementation includes both the physical elements and any system / process changes required. Employee training should begin as soon as all elements of your new warehouse layout design have been put into place.
This stage is also where everything can be tweaked and tuned for optimal performance. It may very well be that you'll need to implement further changes here as well. If additional changes are made, detailed documentation needs to occur, as this will ensure proper management of stakeholder expectations.
Changing your distribution warehouse layout design can take a year or more. With a new design, however, you can ensure your business remains both efficient and competitive. Learn more on warehouse design with this great article - How To Design An Efficient Warehouse Layout In 10 Easy Steps.
Get Professional Advice for Free
Distribution warehouse layout design management is no easy task; many pieces of the puzzle need to be put into place in order for your new design to be effective and compromises may be needed between storage capacity, pick faces and other operational areas to make the most of your warehouse's finite capacity. Our team of experts at LPC have written a FREE "Warehouse Productivity Guide" to assist you with choosing the most efficient design elements for cost-effective change. Download it today by clicking here.