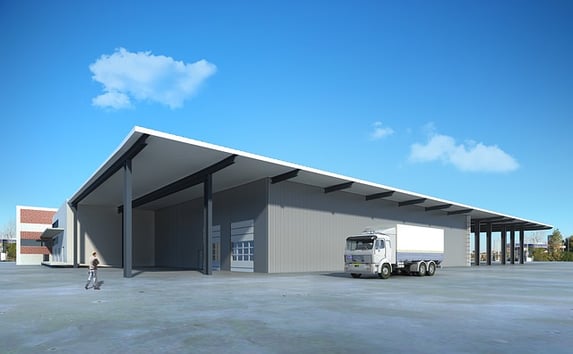 The layout of your warehouse is vital to the success of your business. Unless space is being used to its full potential, the productivity, inventory control, shipping and safety of your warehouse could be in jeopardy. This article explores the elements which must be in place to ensure an efficient warehouse layout.
1. Designated Areas
Your warehouse needs to have a physical layout that promotes efficiency. One way to do this is to ensure there are specific areas in your warehouse for all those daily activities that occur within. Included in the list should be designated areas for returns, packing, shipping and inventory, to name but a few.
A designated area is only as good as its labelling, however. Clearly-marked areas that are easy for employees to read – both close up and at a distance – ensure that products are rapidly taken to the correct place in the first instance and can be found quickly and easily when required.
2. Short Aisles
Long tramming routes can mean a lot of difficulty for employees in terms of navigation. If getting from one area of your warehouse to another is taking a long time, or if the transportation of products is difficult for employees to manage, both are signs that shorter more direct are in order.
Also to shorten main and / or add cross aisles can result in a far shorter pick paths for employees and increase the speed of product retrieval. This will also help to make more efficient use of your existing warehouse space. You may feel you are sacrificing storage space by putting in new aisles, but this is far outweighed in terms of increased productivity and stock turnaround. Don't forget to avoid dead ended routes / aisles.
3. Plenty of Light
Lighting is a vital element to efficient warehouse layout design, but its benefits are often overlooked. Not having enough light in your warehouse will increase the time it takes for your employees to find the products they need. Poor lighting can also interfere with the efficient organisation of your inventory – not to mention reducing team morale and motivation.
Lack of lighting also poses a serious threat to the safety of your employees.
4. No Clutter
Keeping items out of the way is a critical element of efficient warehouse layout design. Even if your warehouse is small, it still needs to be easy to navigate by employees, whether on machinery or foot. Much can be done to ensure that even the smallest spaces are being used to their full capacity. One way is to move products out of the way using vertical locations. Of course, any storage of pallets, boxes and products needs to be done in such a way as to ensure employee safety and good ergonomics.
5. Economic Storage
Although touted as storage solutions, generic racking and shelving bays provided by suppliers, can actually eat up precious warehouse space. Instead, storage should cater to the weight, shape, size and throughput profile of products being stored. For storage of consistent stock, wasted space can be minimised with purpose-built storage solutions. Variable stock will require more flexible storage.
6. Relocation of Areas
Taking a look at your current layout and identifying areas that can be moved for more space is a good start, as changing the size of dispatch, loading and picking areas can free up more room for racking to be installed.
7. Add a Floor
In warehouses where vertical storage isn't a priority, the addition of a second floor can increase the efficiency of your warehouse layout design especially for picking. Mezzanine floors offer a way to maximise warehouse space without the high costs of complete renovation. These types of floors are ideal for small warehouses looking to expand their space due to increased product demand.
8. Think Adaptability
Ensuring that your warehouse layout can be adapted in response to an increasing customer base and product evolution, will help you avoid the costs and stress of frequent redesigns. Learn more about warehouse efficiency with this article - Improving Warehouse Efficiency With 6 Layout Tips.
9. Employee Comfort
A comfortable employee is a more efficient employee. Elements of layout design like breakout rooms, canteens, noise reduction systems, good ergonomics and temperature control, can make a world of difference and should always be considered; as they will make the working environment more pleasant.
10. Avoiding High Energy Costs
Ensuring that your layout is energy efficient can result in thousands of pounds of energy savings. Any building design should ensure that adequate insulation is in place. You can also save on lighting by creating skylights as opposed to installing new light fittings, and if light fittings are being changed / increased think LED.
Ensure Warehouse Layout Efficiency with this Productivity Guide
The layout of your warehouse affects the profitability of your business. By making cost-effective changes to your layout now, you can improve productivity, boost employee morale and meet future demand for your products. Our free "Warehouse Productivity Guide" is a practical eBook which will show you your options for efficient warehouse layout design. You can claim your copy now by clicking here.