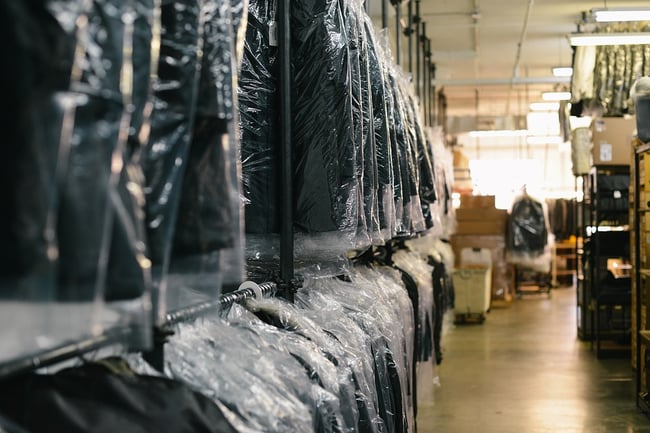 To get the best results from a WMS, successful implementation is vital. Failure to plan effectively for implementation can lead to data loss, reduced efficiency and even system failure. At LPC we help customers adapt and apply WMS solutions to the unique needs of their business. Taking a careful approach to change management reduces the risk of problems occurring, and ultimately increases the ROI you can expect from your new system.
In this article we explain the main stages of WMS implementation:
1) Motivations & Expectations
The implementation of a new warehouse management system involves different sets of motivations and expectations from core stakeholders in your company. Logistics/Operations Managers and Company Directors may be looking for a quick ROI and a flawless implementation. Further down the chain, it is the expectation of warehouse managers that the system be user-friendly; to make their work easier by eliminating unsuitable warehouse practices and improving inefficient processes. Warehouse staff have the expectation that their job will become easier, with fewer errors and a reduced admin burden – without their job being threatened. There is a need to manage expectations and to communicate clearly from the start so you can help employees at all levels adjust to possible changes in the operation of the warehouse.
2) Risk Reduction
Reducing risk is an important part of WMS implementation. The primary objective is to analyse the potential risks that may arise from the implementation and take measures to minimise them. The implementation team's engagement with the WMS provider, supported by a consultancy team if necessary, is really important. The ideal WMS installation team will be steeped in experience working with a diverse range of warehousing processes and scenarios, which can identify and isolate a wide variety of risks. The project is less exposed to risks when you work with an experienced logistics planning business like LPC.
3) Business Review
At the start of the warehouse management system implementation, a thorough business review allows stakeholders to dissect, discuss and comprehend how the warehouse currently works, and what the future requirements and needs of the warehouse are. The issues that come up include the drawbacks of the present warehouse management system (if applicable), expectations, and risks. The implementation process and time schedule should be built into the business review.
4) Implementation Schedule
Many WMS applications are unable to meet the implementation time schedule required by the business, which itself may be regarded as a project risk. There is always the danger of unexpected obstacles arising or mistakes occurring through improper planning or adding to development time by asking for more functionality. A realistic and flexible implementation plan allows time and space in the schedule for unforeseen events and can, therefore, take care of them when they happen.
5) Team Building
Two teams are needed to implement a WMS: a team of vendor-side warehouse executives and an implementation team drawn from your business and supporting third parties. Having the right team on board can make all the difference between failure and success. The process is more detailed than merely selecting the best personnel. Appointing the most qualified implementation team leaders, clear communication with your vendor representatives and personal chemistry all play a role in successful WMS installation.
6) Design & Customisation
A successful WMS implementation depends on the software being tailor-made, or customised / configured to meet the needs of the client. If purchasing an off-the-shelf WMS, the more flexibility, and modular options you have the better, as this will reduce the amount of bespoke customisation (modifications and additions to functionality by changing the programming / source code) required to make it fit your needs. One of the keys to a successful project is minimizing the customisation required, so take your time to shop around for a good fit for your business.
7) Training
Your team should undergo full WMS training during the design and customisation stage. This is particularly important when facilitating the transition from one WMS to another. Do not neglect user training, despite it being time-consuming. The ability of your team to handle the new system greatly determines whether the implementation will be successful. Comprehensive training allows you to use the full potential of your WMS more quickly and minimises the risk of complications after implementation.
8) Data Transfer
Transferring warehouse data from one system to another is a critical part of implementing a new WMS. This often means incorporating an existing WMS database into the terminology and data scheme of the new system. Data migration should be planned carefully and executed with expert advice and supervision, to avoid the risk of losing critical information.
9) Testing
Before you deploy your new WMS, you should test it to identify any system defects and put its functions through their paces. This is typically carried out with actual warehouse data, which lets you compare results between both the old and the new system. Various warehousing scenarios are put to the test and bugs in the system are fixed by the WMS implementation team, in conjunction with your vendor and/or planning consultant. Your WMS vendor should address any bugs in the system's configuration at this stage.
10) Deployment
After modifications and testing, the new WMS is ready to deploy. This is the most critical stage. An accurate warehouse data snapshot is uploaded to the new WMS database and work begins under the new system. In some cases, both systems are used simultaneously for certain processes to ensure data accuracy.
11) Support
Issues that were not addressed during implementation are occasionally revealed when working with the new system, although this is unlikely if full testing has been carried out. Ongoing after-sales support is a critical part of implementation because the complexity of a WMS project always demands a solution to issues that occur during operation. Agree a service package with your vendor to facilitate problem solving and regular updates as required. You may also wish to chat with one of our logistics planners for an 'outside opinion' on how you can use your WMS to your best advantage.
Making The Best Investment For Your Business
Investing in a new WMS is one of the best ways to increase the productivity of your warehouse operation. As we have seen, implementation is a multi-stage process and must be planned and handled meticulously. If you are considering ways to update your supply chain processes, give us a call and chat to one of our logistics consultants. We can help you make the best choice of WMS for your business and ensure that implementation is handled smoothly and successfully.
For more information about warehouse productivity management, please download our free Warehouse Productivity Guide. The guide includes sections on warehouse layout, inventory management, stock control, WMS applications and more. Click here to access your copy.