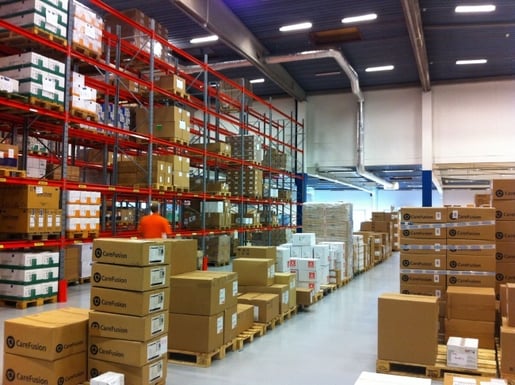 Sound warehouse layout and design is the basis of efficient warehousing. If order picking has slowed down, or you find you are running at or near capacity in your warehouse, you are almost certainly not be getting the most from your current layout.
When planning to optimise your existing space, you first need to outline your goals for reorganising. Perhaps you hope to create space for additional storage or an area for operational activities, or you may want your employees to be able to find your products more quickly. Whatever the goals, they should be as clear as possible. Below are some ways to change your space for optimal operation and get more from your warehouse:
Gather, Analyse & Design
Information from all the activities and areas of your warehouse, should be gathered together so that you can get an overall picture of what your current layout is achieving and what it needs to accommodate. Then you will need to take the time to analyse the information before re-designing the warehouse. The layout design may need to go through several iterations ensure it is optimised in line with your goals while not impacting the operation of the rest of the warehouse.
Implementation
Your implementation plan will be created next and should utilise all of the information you collected previously. In a working warehouse it is likely that the implementation will have to occur in stages, and may also include some enabling works and temporary arrangements to allow the work to be completed. Some elements may also need to be divided into smaller sub-tasks to be completed. The aim of the implementation should be to complete the work in the shortest time with the least disruption to your ongoing operation.
Techniques & Steps
There are several techniques and steps that can be used to ensure that every part of your warehouse space is optimised.
Fixed or Dynamic
Your warehouse should consist of several zones or areas, which have been ranked for picking and put-away by popularity, location, size, type etc. There are two kinds of location that need to be considered if you want to maximise your warehousing layout and design: fixed and dynamic. In a fixed location a SKU is assigned to it and it is changed infrequently for example seasonal stock may be fixed for that season only. In dynamic locations stock is allocated on an as-needed basis, picked and replaced by another SKU.
Office Space & Other Non-Operational Activities
If your office space is located in the warehouse, consider the benefits of moving it elsewhere. If you cannot do so, you may need to consider a solution like mezzanine flooring, which can create a second floor where an office can be relocated. Not only will doing this free up space on your warehouse floor, but it will also help you make the most of your warehouse's vertical space.
Necessary Material & Activities
Only necessary materials should be stored inside your warehouse. Pallets, miscellaneous material and garbage items should be stored in a location outside the warehouse, or on over-door racks to conserve floor space, with only short term requirements held near the operation they serve. The same is true for some of the activities that go on in your warehouse. Only those activities deemed necessary to your business operations should be occurring within your warehouse.
Wall Space
There could be many missed opportunities for the utilisation of space in your facility; just look above. Is there room for racking or mezzanines above your doors/ docks/ marshalling areas? Perhaps there are large areas of empty space along the walls. There are several available solutions for saving space in these areas; all that's needed is to note them and explore your options. When considering these areas the need for access and frequency of movement should be taken into account.
Underutilised Areas
There may be some areas of your facility that only get used once in a while. It's important to identify them and see whether they can be used for a secondary purpose. For instance, a temporary storage area could double as additional productive space by stacking items in one corner and separating it from the rest of the space.
Regular Review
As your business grows and changes, so too will your warehouse space requirements. It's important to review your warehouse layout on a regular basis to ensure that everything is going smoothly. Otherwise, you risk losing money over time due to insufficient space and inefficiency. Find out if you need a new warehouse design with this article - 5 Ways To Tell If You Need A New Warehouse Storage Design.
Improve Your Design & Layout With Our Free Guide
Determining the best way to optimise your warehouse can be difficult because there are so many options for doing so. But when you have a practical guide to help you improve productivity, the job becomes easier. Our free "Warehouse Productivity Guide" provides you with valuable information about cost-effective changes you can make to optimise the space in your facility. Click here to download it now at no cost to you.