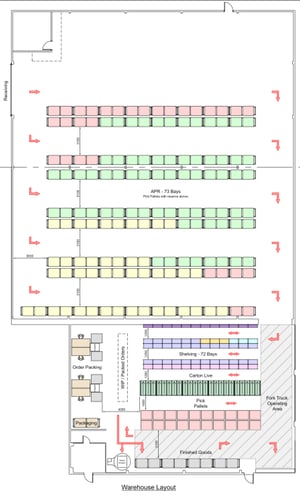 In the United Kingdom, Zip has customer service offices in London, Birmingham, Manchester and near Norwich, plus warehousing near Norwich and manufacturing facilities at Southport, Merseyside.
Zip Waters warehousing and fulfilment operation in Norfolk had grown and expanded its sales over the years such that they had needed to take on additional space for storage and packing in a number of smaller units on the industrial estate.
The fulfilment operation had a number of challenges with storage and operations spread across a number of units with unloading and loading operations taking place outside in the yards.
LPC were invited to look at how the operation could be consolidated and the businesses efficiency and productivity improved.
The opportunity arose to take on an existing warehouse on the same estate that would allow a number of the smaller units to be consolidated. The new facility had to handle new product sales and the spares operation that was supplying service engineers and customers.
LPC designed the layout of the new warehouse integrating the various operations from receipt through storage, picking, packing and despatch that had been spread across the existing units.