Baxi is a part of BDR Thermea, one of Europe's largest manufacturers and distributors of domestic and commercial water and space heating systems.
It employs 6,400 people throughout Europe with a turnover exceeding €1.2 billion. The group has significant market shares across all major continental territories and in the United Kingdom.
Today, BDR Thermea owns and sells some of the leading brands in the European market for heating products.
Its investment is based on boiler products and renewable technologies, including solar thermal hot water systems, ground source heat pumps, air source heat pumps, biomass boilers and micro combined heat and heat and power with baxi-innotech.
Industry 4 - Review
Baxi has previously employed LPC International to provide a warehouse design in a re-engineered ex-foundry building, re-engineer a production area in the released warehousing space, and a couple of transport strategy reviews.
This time in conjunction with another project they were running with their manufacturing technologies we were asked to look at how their Industry 4 health was in relation to the Supply Chain. The brief was to:
Review the inbound and outbound systems, processes and interfaces currently used by Baxi.


Compare this with what could be done in an ideal "automated" / "Digitised" world.


Carry out a gap analysis and endeavour to identify what systems and processes Baxi can obtain / carry out to bridge any gaps.
Methodology
The study followed the following process:
Visit site(s) to view all the business processes involved and communications / data (Information) flows and how they are undertaken– Fax, email, EDI, etc.


Identify what systems were in use and discuss what their functional capacities were.


Detail out in flow diagrams and summaries what the current systems and data / physical flows are.


Compare the existing operation with what it could be (best in class) and identify what and where the gaps in functionality are.


Identify changes in systems and processes to bridge the gap and modernise, as is relevant, Baxi's operation.


Final presentation report on findings and recommendations.
Results
We identified that all the processes and systems, both automated and manual were logical and worked well. These cover processes from management of customers' sales orders to ordering from suppliers, then to the management processes once product is received and goods manufactured and then on to dispatch to and receipt by customers.
Some activities are already fully automated, especially with regards to raw material and component supply with a major supplier who offers supplier controlled inventory services.


Confirmation of orders from other suppliers and the booking of delivery days/ slots and booking on to stock fell at the other end of the scale of automation.
All were reviewed in relation to what the future supply chain might look like.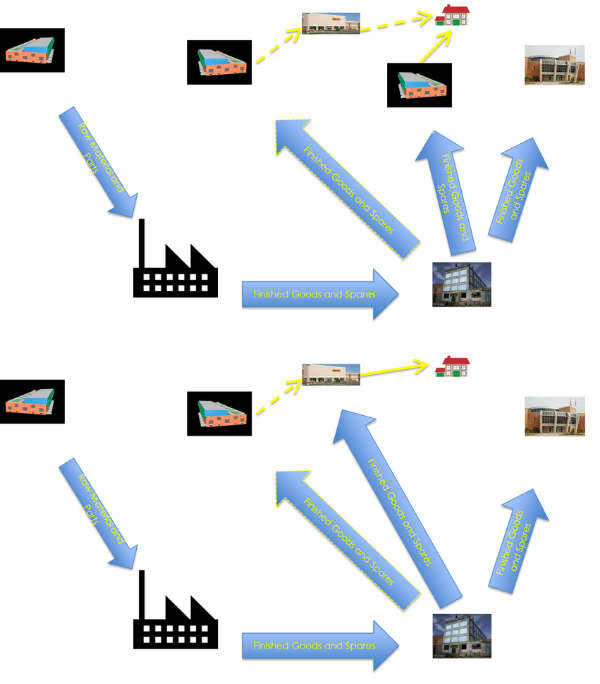 Recommendations
Baxi was in the process of implementing a new ERP system with enhanced functionality and in order to increase their ability to additionally automate data flows should:
Implement the newly available ERP functionality to:

Automatically input customer orders to the ERP and into planning / scheduling and purchasing
Allow purchase orders to be passed to suppliers with reciprocal confirmation, these can in theory go "direct" to the suppliers' warehouse (WMS) for action and despatch
Ensure that EASNs are received to allow more timely and accurate receiving
Send EASNs to customers backed up by Delivery notes, if required, and EPOD system

Source and implement an EPOD system.


While not strictly in the scope, the use of a telematics or fleet management system certainly automates data collection and management of a transport fleet. This can also be used to provide input for order tracking fr customer benefit.


Consider consolidating to a more functionally rich WMS to reduce from two add on systems to one, the current WMS and movement system to a New WMS.


Consider the use of a cloud based EDI system to augment the ERP functionality or use as main means of providing EDI for specific customer types.